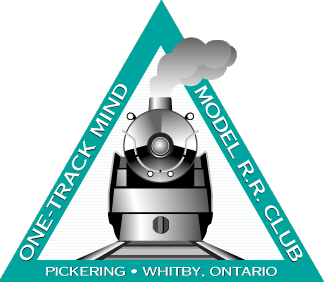 The One Track Mind Model Railroad Club is made up of 1 honorary and 5 permanent members. Each member has a layout in varying stages of development (including concept stage). All of our layouts are modelled in HO gauge, with the exception of Don's "G" scale garden railroad.
We get together once a week (usually on a Wednesday night) for several hours to work on one of our layouts. From fall to early spring we work on my layout, and during the warmer weather we work on Don's garden railroad.
Wayne has taken down his original layout and is planning a central peninsula with two side tables, putting more emphasis on switching rather than continuous run.
Peter is just beginning a small 4'x8' layout for his son (our honorary member). He is starting to put down roadbed and track.
Follow the links below to view the layouts...
Other Helpful Information for Model Railroading ...
Some Electronic Circuit Diagrams for Model Railroading (descriptions to be posted later) ...
Some thought provoking pictures related to Railroading ...
---
This page was last updated on Jan 04, 2007
---
© 2002-2017 - All Rights Reserved.